Sequel/Spin-Off to Metroid Prime: Altina Sonic the Hedgehog, last seen in Metroid Prime: Altina, has been flung backwards in time, to the very beginnings of his journey, and no-one, not even he, can... Quite recall. Well, he breaks the 4th Wall in the first Issue, so we assume he knows a bit XD It's up to Sonic to recreate the past, and prevent a time paradox of space/time-shattering proportions from wiping everything out of existence. Supported by his friends, two morally-ambiguous Authors, and what little with he possesses, is Sonic fast enough to outrun canon? Let's find out... Previously called: Sonic World Adventure On long-term hiatus; continuation planned; date unknown.
The Authors
---
Sorakai the Hedgehuman
The Big Boss:
"Me! The Author! As the Author I can pretty much do anything I like! Although I will usually handicap myself for amusement, at full power I can obliterate anything!"
---
Name: Sora Akixaros
AKA: S, Author, Sora, Kai.
Race: Human (Hedgehuman Avatar.)
Gender: Male.
Height: "Why should I tell you?"
Weight: "Why should I tell you?"
Age: 15.
Voice: Cyan on Black (Tempus Sans ITC.)
Likes: Tormenting Sonic, making comics and friends.
Dislikes: People who put down others for attention.
Skills: "I can do anything I like! It's my world isn't it!?"
Characteristics: Determined, friendly.
First Appearance: Issue 2, Arc 1
---
Hyoxjnn the Reploid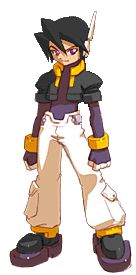 The Unknown:
"Me! The OTHER Author! I was in on SWA since the beginning but only to provide some help. Now I've fully joined the journey!"
---
Name: [REDACTED]
AKA: X, Author, Hyo, Jin, Hyoxjnn.
Race: Human(Reploid Avatar.)
Gender: Male.
Height: "I really don't keep track of that."
Weight: "Why would I bother to memorise that?"
Age: 16.
Voice: Black on White (Tempus Sans ITC.)
Likes: Enjoying life.
Dislikes: Bullies.
Skills: Megamerge, Imagination Manifestation
Characteristics: Ranges from friendly and ditzy to logical and serious depending on situation .
First Appearance: Issue 148, Arc 2
---
The Cast
---
Sonic the Hedgehog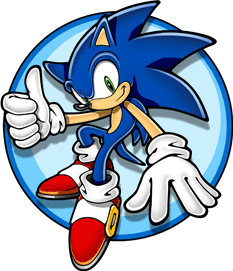 The Blue Buffoon:
Being the main character, Sonic is usually the butt of most jokes, whether it's humourous pain or subtle insult, something is always being inflicted on Sonic.
---
Name: Sonic.
AKA: Sonic.
Race: Hedgehog.
Gender: Male.
Height: 100cm.
Weight: 35kg.
Age: 15.
Voice: Blue on White (Calibri.)
Likes: Chili-dogs, eating, relaxing.
Dislikes: Hunger, Author's threats.
Skills: Supersonic speed, Chaos Energy utilization.
Characteristics: Blue, spiky, fast.
First Appearance: Issue 1, Arc 1
---
Eggman the Scientist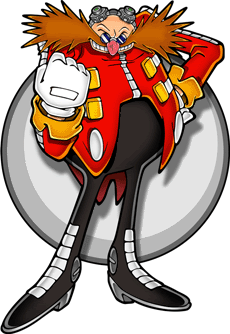 The Eggheaded Egg:
The main antagonist of Sonic World Adventures, he's an evil scientist with an IQ of 300 but that reading is sometimes questioned...
---
Name: Ivo Robotnik
AKA: Dr. Eggman, Eggman, Eggy, Robuttnik, Buttnik.
Race: Human.
Gender: Male.
Height: 185cm
Weight: 128kg
Age: Unknown.
Voice: Black on White (White on Black for alternate timeline self) (Times New Roman.)
Likes: Feeling big, dreams of taking over the world someday.
Dislikes: Sonic, Author, plans being foiled.
Skills: Able to construct robot army out of a Milo tin and a couple of springs, basically anything with gears.
Characteristics: Evil, short-tempered, persistent.
First Appearance: Issue 33, Arc 2
---
Miles the Fox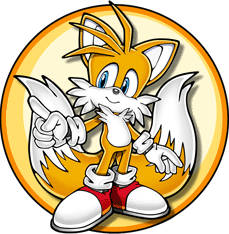 The Two-Tailed Fox:
A friendly fox with duel tails, hence his nickname. His IQ rivals Eggman's, although Tails also has common sense, tipping the scales in his favour.
---
Name: Miles "Tails" Prower
AKA: Miles (Rarely), Tails, Fox-Boy.
Race: Fox.
Gender: Male.
Height: 80cm
Weight: 20kg
Age: 8.
Voice: Yellow on Black (Calibri.)
Likes: Spending time with friends, mint candy, building things.
Dislikes: Discriminative People.
Skills: Just as skilled in computers and mechanics as Eggman, if not more so.
Characteristics: Kind, friendly, smart, curious.
First Appearance: Issue 209, Arc 4
---
Knuckles the Echidna
The Knuckleheaded Numbskull:
A red echinda from Angel Island. Quick to anger and protective of his Emeralds, Knuckles can come off as a bitter misanthrope. However, under his hard shell lies a kind heart and decent rapping skills, he'll always be true to himself. (Dr.
Milomus2
has diagnosed Knuckles of experiencing on of the many symptoms of "Chronic Rivalry Syndrome", specifically the inability to become friends with your rival, all attempts inevitably leading to pain. This is a disease that can only be imagined to have been possessed since birth. He also notes that this is only one of many symptoms.)
---
Name: Knuckles
AKA: Knucklehead, Knuxy, Knuxyhead, Red Retarded Rapper.
Race: Echidna.
Gender: Male.
Height: 110cm
Weight: 40kg
Age: 16.
Voice: Red on White (Calibri.)
Likes: Guarding his Emeralds, rapping.
Dislikes: Jewel Thieves.
Skills: Rapping, boxing
Characteristics: Easy to anger, easy to fool, tough.
First Appearance: Issue 373, Arc 5